Gluten Free Lotions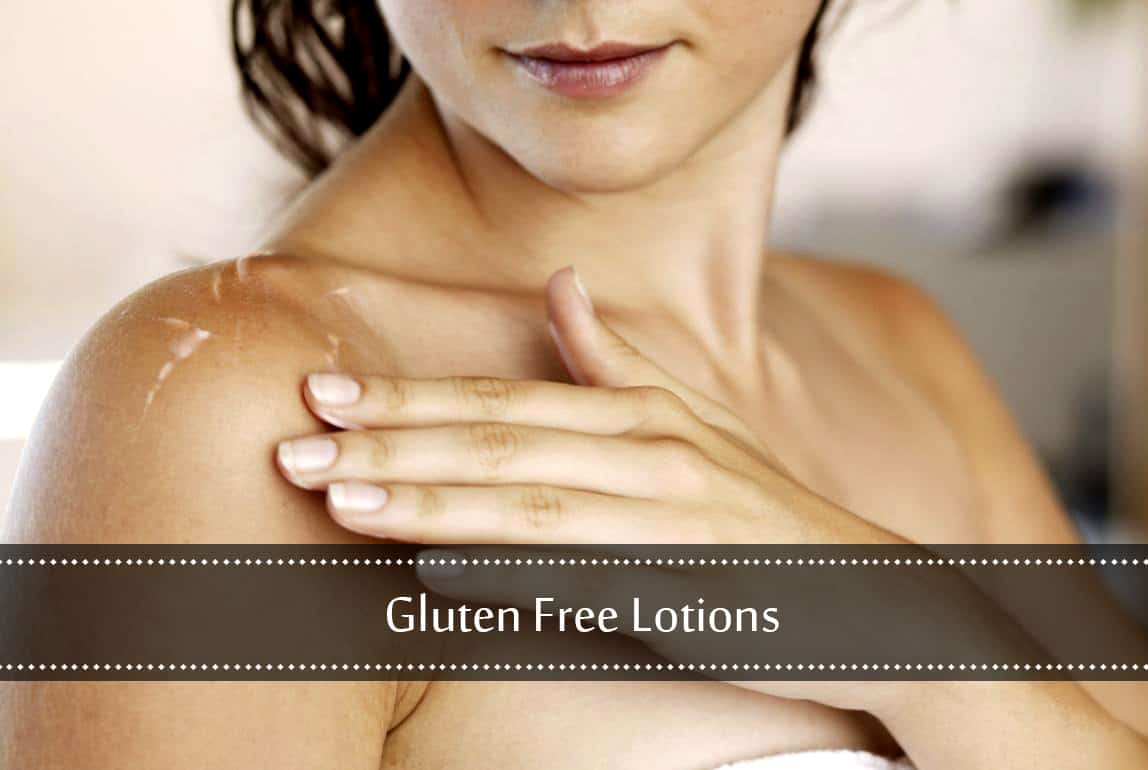 Time to lather up! Before I get to the list, I wanted to share that totally understand and respect that some folks feel we don't need to worry about topical GF products, only foods that we can ingest. The reason I choose to use gluten free lotions is this: I don't want to accidentally ingest gluten via lotions, hairsprays or lipsticks, so I choose to use topical gluten free products…not to mention the stuff just plain creeps me out now. But on a serious note, topical gluten really irritates my eyes. If I use a gluten filled lotion and touch my eyes, it's like fire ants- AHHH! So, if gluten irritates your skin, you have DH (the topical form of Celiac Disease), or you choose to use it for yourself or especially for kids who eat everything, this list is for you.
And of course, it must be said, ingredients are subject to change and cross-contamination may be possible.
​7 Jardins Good Night Velvet Body Lotion: Nut Free, Tear Free, Wheat Free, Gluten Free, Cruelty Free, NO Parabens, NO Artificial Colors, NO Synthetic Fragrances.
The It List Lotion: Hypoallergenic, gluten free, paraben free, wheat free, nuts free. ​
​​​​​​​​​​​Dove: Dove's Cream Oil Shea Butter, Pro-age, Cream oil body lotion and Shea butter are all gluten free. If for any reason, there is wheat, barley, rye, oats or any derivative of gluten in any of the Dove lotions, it will be clearly labeled. yay.
NOW Shea Butter: Now Shea Butter is paraben free and gluten free. It's very good for dry, cracked or chapped skin in need of moisture, especially on tougher areas such as the elbows, knees and feet.
Green Beaver: Green Beaver's lotion are not only gluten free, but organic too. I dig that. I usually see this brand at health foods stores.
Dessert Essence: Dessert Essence has some gluten free lotions and they are always clearly labeled on the back. I always find this brand at all natural food stores. Organics Fragrance Free Hand & Body Lotion is also wheat free.​
Mineral Fusion: The Mineral Fusion lotion line is gluten free , 100% vegetarian and free of parabens, artificial fragrances and colors. I've found them at Whole Foods and Natural Food Stores.
Mountain Ocean Skin Trip: Mountain Ocean skin trip is gluten free. It is made on a line with one shampoo that has wheat in it, but the representative says they clean the equipment thoroughly and have never had any complaints.​
JR Watkins: All of the JR Watkins products are gluten free except the Aloe & Green Tea Shampoo and Conditioner.
Savoneire: Savonneire has gluten free lotions that are also free of wheat, casein, soy, corn, colorants and fragrances.
Kiss My Face: The Kiss My Face Vitamin A &E Moisturizer, Honey & Calendula Moisturizer & Peaches & Crème Moisturizer are all gluten free. When I talked this company, I was impressed that they had a ready available list and were so prompt about getting it to me.​
Burt's Bee's: Although they cannot guarantee that cross-contamination won't happen during the manufacturing process, all of the Burt's Bees lotions and Burt's Bees Body Butter's are gluten free.​
California Baby lotions: All California Baby Lotions are gluten free, soy free, dairy free, paraben free and synthetic fragrance free. You can find them at Whole Foods, Target and Babies R Us.